Five-Show Membership Options
Choose one of our five-play packages and join the family!
Take part in the artistic process!
See shows before the public
Tues-Fri opening week
Save $180 off the box office!

Get the best seats, reserved throughout the season!
Unlimited exchanges
Choose Tuesday-Sunday
Save 40% off the box office!

See any six shows, whenever you like!
Redeem at any time
Our most flexible option
a $360 value!

Five-Show Discount Series

For Seniors (65+), Students, Educators, and Military
Save on your subscription!
Reserved seats all season!
Not valid for all series
There are still five great shows remaining this year!
Storefront Church
By John Patrick Shanley (Doubt)
Nov 26th to Jan 11th
Press Opening, Nov 30th
Is it a moral failing to collect the rent? Find out when a politically savvy Bronx borough politician faces a Pentecostal minister who's short on faith. Will the mortgage get paid? If so, at what cost?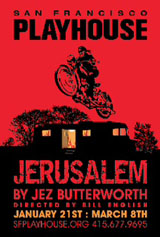 Jerusalem
Written by Jez Butterworth
Jan21st to Mar 8th
Press Opening, Jan 25th
Everyone wants Johnny. His son wants to go to the county fair. His mates want his stash and his booze. County officials want him evicted. Whatever happened to the simple life in the country? Come find out in this hit Tony and Olivier winning play!
Bauer
Written by Lauren Gunderson
Mar 18th to Apr 19th
Press Opening, Mar 22nd
Why did he stop? Imprisoned by the Nazis, he sketched on scraps. His fiery love affair with Hilla Rebay (Guggenheim curator) lasted a lifetime. The Guggenheim was built to house his work. Why did the genius that survived all that suddenly stop painting? This is a San Francisco Playhouse commissioned work.
Seminar
By Theresa Rebeck
Apr29th to Jun 14th
Press Opening, May 4th
Five hundred dollars a week for all the abuse you can take. And maybe sex. That's what four aspiring novelists pay for a ten-week private writing class with the legendary Leonard. It's a smorgasbord of vicious, and very funny, wordplay, as innocence collides with experience in this biting Broadway comedy about power, sex, and art.
Into The Woods
By James Lapine (book) and Stephen Sondheim (music and lyrics)
Jun 24th to Sep 6th
Press Opening, Jul 28th
What happens after Happily Ever After? In Sondheim and Lapine's beloved musical retelling of the Grimm classics, a parade of familiar folktale figures find their way "Into the Woods" and try to get home before dark.