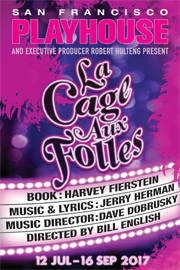 Musical Revival
JUL 12 – SEP 16, 2017
LA CAGE AUX FOLLES Tickets: from $40
Estimated run time: 2 hours, 30 minutes
OR CALL 415.677.9596 FOR TICKETS AND INFO.
LA CAGE AUX FOLLES
Book by Harvey Fierstein
Music and Lyrics by Jerry Herman
PLAY DETAILS
Georges manages a Saint-Tropez drag-show nightclub headlined by his longtime love and partner Albin. Things are looking up until Georges' son, Jean-Michel, brings home his fiancée's highly conservative parents to meet them. Winner of 6 Tony Awards including Best Musical, La Cage aux Folles glimmers with French flair and celebrates love, romance, and being true to who you really are.
San Francisco Playhouse's production of La Cage aux Folles is made possible by: Executive Producer Rob Hulteng; Producers Clay Foundation – West, Geoffrey Jue; Associate Producer Russell Stanaland; and Artistic Underwriters Susan Atherton, William and Janet McAllister, and Maggie & Larry Thompson.