The San Francisco Playhouse 2013-2014 Season features eight plays: three Broadway hits, one off-Broadway hit, a world premiere, and a musical classic, plus two World Premieres in our Sandbox Series. The six-play Main-stage season begins with Bengal Tiger at the Baghdad Zoo on October 1st, 2013, and closes with Into the Woods in September 2014. Buy theater tickets now. Read the 2013-2014 Season Press Release (PDF)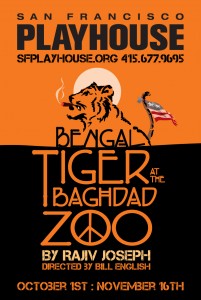 Written by Rajiv Joseph
October 1st to November 16th
Press Opening, October 5th
In this Pulitzer Prize finalist, two US Marines and an Iraqi translator are thrust into a world of greed, mystery and betrayal after an encounter with a now-deceased but still very pissed-off tiger. The streets of war-torn Baghdad are filled with ghosts, riddles and wry humor in this groundbreaking play that explores the power and perils of human nature.
More Info
Get Tickets!
Written by John Patrick Shanley
November 26th to January 11th
Press Opening, November 30th
God vs. Gelt. Is it a moral failing to collect the rent? Find out when a politically savvy Bronx borough politician faces a Pentecostal minister who's short on faith. Will the mortgage get paid? If so, at what cost?
More Info
Get Tickets!

Written by Jez Butterworth
January 21st to March 8th
Press Opening, January 25th
Everyone wants Johnny. His son wants to go to the county fair. His mates want his stash and his booze. County officials want him evicted. Whatever happened to the simple life in the country? Come find out in this hit Tony and Olivier winning play!
More Info
Get Tickets!
Written by Lauren Gunderson
March 18th to April 19th
Press Opening, March 22nd
Why did he stop? Imprisoned by the Nazis, he sketched on scraps. His fiery love affair with Hilla Rebay (Guggenheim curator) lasted a lifetime. The Guggenheim was built to house his work. Why did the genius that survived all that suddenly stop painting? This is a San Francisco Playhouse commissioned work.    
More Info
Get Tickets!
By Theresa Rebeck
April 29th to June 14th
Press Opening, May 3rd
Five hundred dollars a week for all the abuse you can take. And maybe sex. That's what four aspiring novelists pay for a ten-week private writing class with the legendary Leonard. It's a smorgasbord of vicious, and very funny, wordplay, as innocence collides with experience in this biting Broadway comedy about power, sex, and art.  
More Info
Get Tickets!

By James Lapine (book) and Stephen Sondheim (music and lyrics)
June 24th to September 6th
Press Opening, June 28th
What happens after Happily Ever After? In Sondheim and Lapine's beloved musical retelling of the Grimm classics, a parade of familiar folktale figures find their way "Into the Woods" and try to get home before dark.
More Info
Get Tickets!
All of the San Francisco plays listed above are productions of the San Francisco Playhouse, located at 450 Post Street on Union Square. For directions, click here. For tickets, please visit our San Francisco theater tickets page.
Home | About San Francisco Playhouse | Get Theater Tickets | 2013-2014 Season | Things to do in San Francisco | Subscribe | Donate | Past Seasons | Press | Contact Us | Blog